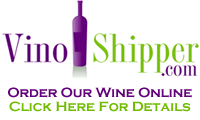 Cases may be mixed
10% discount on case lots
Glass Bottle Case
Prices below are listed per glass, bottle, and case
White Wine
Ridge View White $5.00 $8.00 $173.00 (sweet white)
Apple and citrus flavors
Edelweiss $5.00 $15.00 $162.00 (sweet white)
Fruity white grape flavors
Spring Mist $5.00 $12.00 $130.00 (semi-sweet white)
Hints of citrus
Vignoles $5.00 $15.00 $162.00 (semi-sweet white)
Fruity with hints of peach & apricot
Chardonel $5.00 $14.00 $151.00 (dry white)
Hints of almond & spice flavors
Red Wine
Ridge View Reserve $6.00 $22.00 $238.00 (dry red)
Tasting – $1.00 Full body with robust flavors
Norton $6.00 $20.00 $216.00 (dry red)
Young & Spicy
Frontenac $5.00 $15.00 $162.00 (semi-dry red)
Blackberry & wild cherry notes
Fruit Wine
Blackberry $5.00 $15.00 $162.00 (sweet)
Blackberry & wild cherry notes
Paired Up $5.00 $18.00 $194.00 (Pear Wine – sweet)
Made 100% from pears
Price list updated 5/21/10
About Our Grapes:
Ridge View Winery's first four acres were established with Chardonel grapes in 2000, followed in 2002 by a second location with Frontenac, Marechal Foch, and GR-7 varieties – bringing the total acres to five and one-quarter with over 3,000 vines. In 2007 four dozen Corot Noir were added.
Ridge View Winery uses these grapes, as well as Vignoles, Edelwiess, Chambourcin, Noiret, Norton, Vidal Blanc and other varieties, to produce our unique wines. Order or come in for a wine tasting today!
Wine Shipping:
Ridge View Winery can ship many varieties of our fine red and white wines directly to Mt. Sterling, Brown County, Hersman, Fargo, and Mound Station, IL residents; contact us directly at 217-289-3300 or by email at [email protected].
We can also ship wine to residents of AK, FL, ID, LA, MO, NE, NV, NH, NM, ND, OH, OR, VA, DC, WV, AND WY through our partner vinoshipper.com