Our 2019 Game Feed was a wild success. We thank you for joining us and are looking forward to seeing you next year!
Have you ever wished you could sample locally- and ethically-sourced meats while enjoying a delicious crafted beverage? Ridge View Winery hosts an annual Game Feed for Alzheimer's.
If you're looking for a wine tasting experience in Mt. Sterling, Brown County, Hersman, Fargo, or Mound Station, IL unlike any other, this is it! You'll taste excellent crafted wines from our on-site vineyard as well as locally sourced meats from area hunters. There's no better way to get a true taste of the distinctive flavor of Downstate Illinois.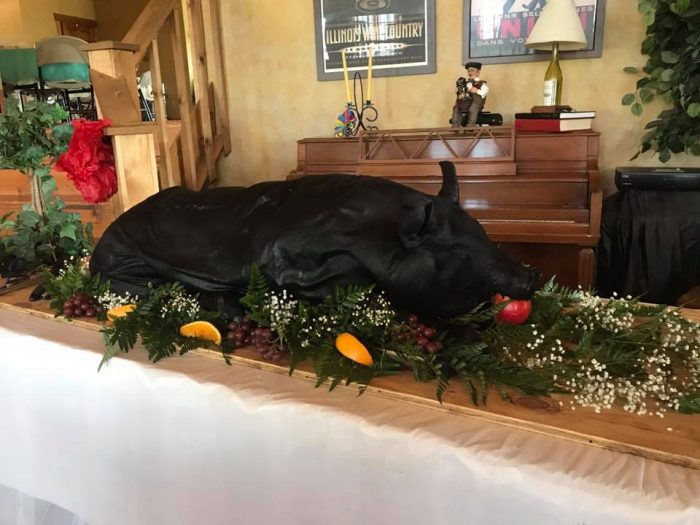 Wine Pairings
When you attend the annual Game Feed for Alzheimer's event at Ridge View Winery, we pair each locally sourced meat dish with our crafted wines. Here are just some of our suggested pairings with our wine list:
Venison dishes:

At the Game Feed for Alzheimer's, you can expect to enjoy a number of venison-centered dishes, including corned venison and venison pastrami. We recommend pairing venison with rich red wines, including pinot noir and Syrah.

Seafood:

Locally caught fish, as well as turtle chowder, is a common addition at this event. For many seafood dishes, our wine experts will pair a pinot gris or a chardonnay.

Other dishes:

Depending on the season, this event will include a number of distinctive dishes, including dove and dressing, antelope steak fajitas, Italian beaver, Osceola turkey perlow, squirrel salad and more. Our team will help you expertly pair wines with each dish.
If you'd like to attend the Ridge View Winery Game Feed, or are hoping to explore other opportunities to taste the rich bounty of West-Central Illinois, reach out to one of our friendly representatives.
Attend Our Game Feed
Ridge View Winery offers a range of exciting beverages and food offerings throughout the year. To learn more about any upcoming events, contact us today by calling us at 217-289-3300.