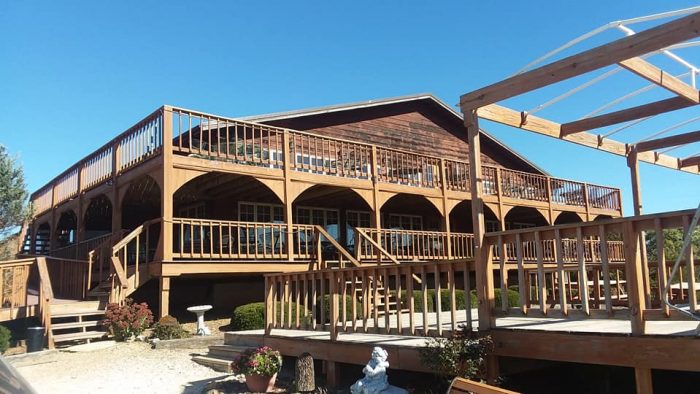 Ridge View Winery is located in southwestern Brown County, Illinois, approximately 9 1/2 miles southwest of Mt. Sterling. This spacious Illinois winery sets on a ridge 180 feet above McKee Creek valley with a panoramic view of the wooded ridges native to the area.
Larry and Phyllis Hanold established their first vineyard of four acres with Chardonel grapes in 2000. In 2002 a second vineyard was established with Frontenac, Marechal Foch, and GR-7, bring the total acres to five and one-quarter with over 3,000 vines. In 2007 four dozen Corot Noir were added. The Ridge View Winery uses these grapes, as well as Vignoles, Edelwiess, Chambourcin, Noiret, Norton, Vidal Blanc and other varieties from western Illinois vineyards, to produce unique wines that exhibit excellent bouquet and highly concentrated fruit flavors.
Construction on the 10,700 square feet winery began on September 13, 2005, with the winery opening on June 1, 2007. The winery is composed of a 2,400 square feet tasting room with a stairway leading up to a 480 square feet loft, which overlooks the tasting room. The 4,800 square feet banquet room is located behind the tasting room and has a 400 square feet kitchen area. Outside is 1,180 square feet lower deck, a 200 square feet deck off the banquet room, and a 1,180 square feet upper deck accessible from both the lower deck and from the loft area inside the tasting room.
Booking Weddings, Receptions, Parties, Reunions, and Meetings
Ridge View Winery Banquet RoomAn Illinois winery is a great place to hold a special event! Our banquet room will seat approximately 170 guests, depending on configuration and location of a head table. Additional seating may be made available in the tasting room and loft with prior arrangement. We use HY-VEE Catering on Harrison St. and HY-VEE Catering on Broadway, both are in located in Quincy, IL. For banquet room reservation information, please contact Phyllis Hanold, Tuesday through Friday – 2:00 to 6:00 pm. Call, fax, or email to book your wedding, reception, party, reunion, or meeting today!
Special Events
Ridge View WineryWe host many special events, such as, Mardi Gras, Masquerade Ball, Shrimp Fest, Ye Olde Madrigal Feaste, Oktoberfest, Christmas by Candlelight, Mystery Theaters, Comedy Theaters, Sweet Corn Festival, and any thing else we can think of to have a party. See our Coming Events page for a schedule.
Ridge View is proud to be an Illinois winery, and participates along with other Illinois Wineries as a destination within the Illinois River Wine Trail, the Western Illinois Wine Trail, and is included in the South Central Region of Illinois Wineries as listed on IllinoisWine.com.
Phone: 217-289-3300
Fax: (217) 289-3310
Email: [email protected]